Not sure whether I managed to pack all these in to my spot on the Mike Sweeney Show today, but these are the wines I'm (Christmas) stocking up on for the festive season…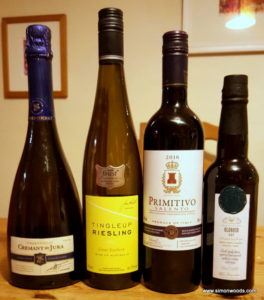 Sparkling
Exquisite Collection Crémant de Jura 2014, France (£7.99 Aldi)
The best value sparkling wine in the UK? I've bought rather a lot of this for over Christmas. It's a serious alternative to Champagne, but at a price that won't make me wince it I see one of my odder relatives mixing it with Benedictine – please don't try it…
White
Tesco Finest* Tingleup Riesling 2017, Great Southern, Australia (£8.50 Tesco)
Who could resist a Tingleup? If you think that Riesling is always sweet, you need to this dry Aussie white. Crisp, tangy and eminently turkey-friendly. Pretty good with smoked salmon too.
Red
Taste The Difference Primitivo Salento 2016. Puglia, Italy (£7.50 Sainsbury's)
Wonderful winter red, with warm plummy berry berry flavour in abundance. For those who prefer the pigs in blankets to the turkey…
(PS Looks like it's on special offer at just £6 at the moment – fill yer boots)
And to follow…
Morrisons The Best Oloroso Sherry, Spain (£6 per half Morrisons)
Phwoarr… That is a technical wine tasting term, I hope you understand. But honestly, this is fabulous stuff, dense, nutty and figgy, almost treacle-like but still not sweet, fascinating and a total bargain. A wow with hard cheeses, also excellent lightly chilled with Boxing Day ham.