Sometimes vines need something to lean on – an ancient vine in Valdeorras
In most of Spain, white wine is something of an afterthought. Thoroughly decent examples exist in regions such as Rioja and Catalonia, but if they were to disappear tomorrow, few would shed a tear. However, there's one part of the country where whites have the upper hand – Galicia.
Some call it Green Spain, and it's not hard to see why. Forget the rolling plains and dusty heat of the arid centre of the country, this lush, verdant region bordered by the Atlantic to the north and west, the Serra dos Ancares mountains to the east and the Portuguese frontier to the south has more in common with southern Ireland, with a few fjord-like inlets and some Piedmont-style fog-stricken hills thrown in for good measure. It truly is a green and pleasant land. There are generous but seldom excessive amounts of rain, while the mean temperatures justify the existence of a number of seaside resorts without making it an 18-30 playground. And this is what makes it a white wine haven. Red grapes will grow – more of them later – but for the moment, Galicia is white territory.
The best-known district is Rías Baixas. The 'Lower Estuaries' along the west coast were only awarded DO status in 1988, but since then have made a major splash, particularly with Albariño. While a dozen grapes (half of them red) are permitted by the local Consejo Regulador, Albariño makes up more than 90% of total planting. The origins of this aromatic grape are uncertain. The name implies it is a white grape (Alba) from the Rhine (Riño), and certainly some have suggested that it could be a clone of Riesling that was imported from France by the monks of Cluny Abbey in the 12th century. But however it made its way to Galicia (and to Vinho Verde just across the Miño in northern Portugal), its thick skin makes it perfect for the damp climate, while the wines it produces are ideal for a local cuisine in which seafood plays such a prominent part.
Flavour-wise, Albariño can be hard to pin down. Crop it high – and Galician yields are on the distinctly generous side – and you have a wine with a vaguely spicy, lime-jelly-like nature, like a simple New World Sauvignon with a touch of Viognier. Reduce the yields, and increase the skin contact, and the Viognier-like characters increase. Cut down on the skin contact, and a more minerally, green apple and grapefruit edge emerges, putting you more in mind of Riesling or Grüner Veltliner, albeit with a briny Atlantic tang. However, Riesling doesn't take kindly to barrel maturation, whereas Albariño in the right hands can, and what's more, the results transcend the drink-youngest-available reputation of the variety. Lees aging adds richness and is on the increase, while malolactic fermentation does the same in a more clumsy fashion and appears to be on the wane, but both practices further muddy the waters.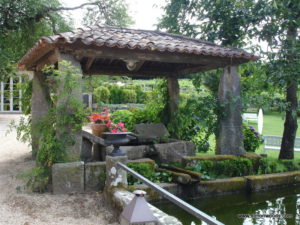 The gardens at Pazo Señorans, with vineyards in the background
So too do the differences in terroir across the region, with soils ranging from sandy and alluvial to slate and granite. Many Albariños are blends from vineyards across Rías Baixas, but with five designated sub-zones – Ribera de Ulla, Val do Salnés, Soutomaior and O Rosal from north to south along the coast, and Condado do Tea further inland along the Miño – don't be surprised to see wines in the future that make more of a play of the regional differences. Pazo Señorans, Pazo de San Mauro, Castro Martin, Lusco do Miño, Gérardo Mendez, Palacio de Fefiñanes, La Granja Fillaboa and Pazo de Barrantes are currently the bodegas to follow.
Where not so long ago, ambitious Galician wine began and ended with Rías Baixas, today, the regions four other DOs – Ribeiro, Ribeira Sacra, Monterrei and Valdeorras – are displaying more of their wine muscles. Indeed, Ribeiro was flexing those muscles long before other parts of Spain got in on the wine game. From the Middle Ages to the 18th century, the region was renowned for the passito-style wine called Ribadavia which was produced along the banks – ribeiro – of the rivers Miño, Arnoia, Avia and Barbantiño and shipped to various parts of Europe, including England and Italy.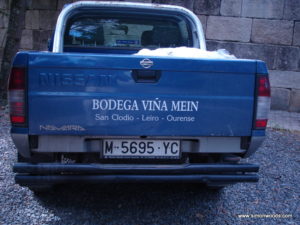 The tostado – literally 'toasted' – sweet styles can still be found, as can the occasional red, but today it's the dry whites that are attracting international attention. The DO lies next to the Condado de Tea district of Rías Baixas, but while Albariño is grown, it's not the dominant variety. Although the Palomino that was widely planted in the post-phylloxera era is still in evidence, it's gradually giving way to a range of higher quality grapes such as Torrontés, Albariño, Loureira, Godello and especially Treixadura, a variety that thrives on Ribeiro's granitic soils. Some wineries go for varietal versions, but most prefer blends in which Treixadura forms the lion's share. As in Rías Baixas, there have been experiments with barrels, but the best Ribeiros are unoaked, and combine floral citrus characters with a bracing marine tension, despite the region being sheltered from the extremes of the Atlantic by the surrounding hills. Producers such as Emilio Rojo, Pazo de Vieite, Sanclodio and Viña Mein are doing an excellent job in blazing the quality trail, while the local co-op also maintains an admirable standard with its wines.
A broadly similar mix of white grapes is found in Monterrei to the south-east, along with a local grape Doña Blanca, also known as Valenciana. However, this being the warmest, driest part of Galicia, red grapes also thrive. The main two are Mencia and Tempranillo, here known as Arauxa, but there are also experimental patches of other grapes such as Shiraz. While Monterrei achieved DO status in the 1960s, this was subsequently suspended due to a lull in activity, and only recovered just over a decade ago. Progress since then has hardly been rapid, but wines from producers such as Terra do Gargalo, Bernabé Jiménez and Crego e Monaguillo show that this is a region with its best still to come.
The same could be said of Ribeira Sacra to the north. A stunning region of lush forests, steep-sided valleys, often with terraced vineyards, winding rivers (the Sil and the Miño), and plenty of evidence of the monastic legacy that gives the area its name, it's the one part of Galicia in which red wines have the upper hand. Godello, Loureiro, Treixadura and Albariño all grow well on the steep, slate-based slopes, but it is the reds, particularly those made from Mencia, which many believe represent the future of the DO. Already, there are wines that compare well with the Mencias of Bierzo, combining the rich earthiness and dark fruit of the grape, with some Galician freshness and a lively mineral streak. Bodegas to watch out for include Moure, Alguiera and Dominio di Bibei, with the latter benefiting from the winemaking expertise of Sara Pérez and René Barbier Jr. of Priorat fame.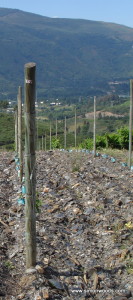 Mencia is also found in Valdeorras, but the locals tend to keep quiet about it. This is something of a shame, as the lively fragrant wines of the 'golden valley', reminiscent of Marcillac from south-west France, surely have a place in a world swamped with too many top-heavy reds. However, it's understandable when you taste the whites made from the Godello grape. Though grown in other parts of Galicia, it reaches its peak here on soils that are mostly slate – much of Spain's slate is quarried here, and there's plenty of it in the vineyards (see left) – but with several granite outcrops. Godello is a less aromatic variety than Albariño, but it's finer in structure, with a lithe texture, pithy apple, pear and just-ripe peach flavours and – in the best examples – a taut minerality akin to Grüner Veltliner or even some Côte d'Or whites. As in Rías Baixas, oak fermentation and ageing can work providing some sensitivity is used. For example, Rafael Palacios uses large oak foudres rather than the much smaller barriques for maturing his superb As Sortes cuvée. Besides newcomer Palacios, other producers of note are La Tapada and Godeval, the two pioneering bodegas who first put Valdeorras on the map in the 1980s, and Valdesil. Expect this roster of names, not to mention that from other DOs in Galicia, to grow as the rest of the world discovers the pleasures of this delightful corner of Spain.
A Galician Top 10
Sainsbury's Taste the Difference Albariño 2007, Rías Baixas (£6.49 Sainsbury's)
Pure, tight and pithy wine from Lagar de Fornelos, with precise citrus and gooseberry flavours
Lusco do Miño Albariño 2006, Rías Baixas (£15 Fields Morris & Verdin)
Peach and pear flavours pepped up by more exotic jasmine tea-like aromas and mineral characters
Pazo Señorans Selección Añada 2003, Rías Baixas (~£30 Vinites)
Three years of lees ageing have lent a creamy richness to the peach, herb and mineral notes.
Albariño de Fefiñanes "1583" 2005, Rías Baixas (£27.99 Moreno Wines)
Stunning oaked wine from the oldest bodega in Rías Baixas, fleshy yet pure, with tender peach and pear flavours
Rafael Palacios As Sortes 2006, Valdeorras (£20-25 Georges Barbier)
Creamy and fresh, with the fruit, tension and minerality of great white Burgundy.
Valdesil Valderroa Mencia 2005, Valdeorras (£6.95 Laymont & Shaw)
The Valdesil whites are great, especially the barrel-fermented Pezas da Portela, but this peppery, cherryish red is also charming and moreish.
Telmo Rodriguez Gaba do Xil 2007, Valdeorras (£7.50 Adnams)
Crisp, aromatic yet surprisingly rich and honeyed Godello from one of Spain's top winemakers.
La Tapada Guitian Sobre Lias Godello 2007, Valdeorras (contact C&D Wines)
Plush, juicy wine, with spicy pear notes and richness from lees ageing – think Viognier without the vulgar bits
Pazo de Vieite Viña Farnadas Treixadura 2006, Ribeiro (£9-11 Richards Walford)
Refreshing yet full bodied, herb and citrus-scented white with a light briny note
Crego e Monaguillo 2007, Monterrei (£9.99 Majestic)
Taut, spicy blend of Godello and Treixadura, with a floral hint to its apple-y fruit
(this is a piece I did late last year for the now-defunct Wine & Spirit magazine – it's still on their web-site, but in a rather bitty form and without pictures)