A couple of whites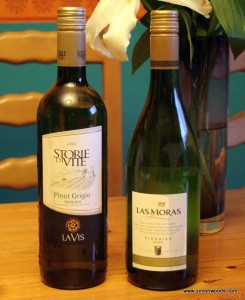 La Vis Storie de Vite Pinot Grigio 2008, Trentino, Italy
£6.99 Waitrose
Clean, almost Mâcon-like edges, good bright apple and melon, PG's not my fave grape, but this is really rather nice, with weight and yeasty bite to add interest. Not complex, but tasty, and with an almost briney edge to the finish. B
Las Moras Viognier 2008, San Juan, Argentina
£5.99 Sainsbury's
Rich, creamy smell promises much, but I'm not so keen on the slightly false lime jelly cube edge. It speaks of a hot climate, where someone has had to pick their Viognier before it developed enough of the exotic varietal character, but still had to acidify the wine to try to achieve some balance. C-
.
Two Chilean Gewürztraminers
Carmen Gewürztraminer 2008, Central Valley, Chile
£5.99 Morrisons
I really wish that Chilean organic pioneers Carmen would team up with Hardy's in Australian to do a wine called Carmen Eileen. No matter, the wines are at worst competent, and at best very good indeed. This is on the light side for Gewürz, with a lively lemon zestiness to the classic lychee and rose petal character. What's also good is the absence of any of those heavy, bitter characters that can mar some versions of the grape. Not hugely complex, but a really satisfying drink. B(+)
Cono Sur Limited Release Gewürztraminer 2007, Bío-Bío, Chile
£5.99 Majestic, Booths, Sainbury's Waitrose
This is richer and oilier than the Carmen, but again avoids the extremes of bitterness. There's a touch of ginger here, and plenty of punchy, peachy fruit cocktail flavour, while the finish balances a touch of sweetness with again a touch of citrus. Not sure which of these I prefer – this is headier, and would overwhelm many foods, while the Carmen is more versatile. But both are really well priced and very tasty. B(+)
The Wine Society
Italians – The Good, The Bad and The Ugni
Really good of the Wine Society to include some Trebbiano-based wines in their recent tasting of 28 Italian wines in Manchester, as it means I can use a cheesy headline. First the good, under which heading came the vast majority of the wines. You expect excellence from the likes of Allegrini (Valpolicella 2008, Amarone 2004, La Poja 2004), Vajra (Nebbiolo 2007, Barolo Bricco delle Viole 2004) and Fontodi (Chianti Classico 2006, Flaccianello 2005), and they didn't disappoint. Less familiar goodies included Araldica's Gavi La Battistina 2008 (£7.95 S-), with its fleshy pear & peach fruit and bright mineral edges; Capponi's Villa Calcinaia Chianti Classico 2006 (£11.25 S(+)), which reminded me of strawberry-ish red Burgundy with those ever-so-slightly-abrasive-and ferrous Nebbiolo-style tannins; Contesa Pecorino Colline Pescaresi 2008 (£10.50 B+), firm and minerally with green apple to the fore and a hint of banana in the background; and the Alovini Terra degli Eventi Basilicata Rosso 2008 (£6.50 S-), a charming, black cherry-scented red that was almost impossible to spit out.
Straddling the good/bad boundary was Puglia's Vallone. The 2001 Graticciaia (£32.00 B(+)) was looking a little jaded, with the fruit losing its freshness and turning to prune and raisin. In contrast, the less ambitious Brindisi Rosso Vigna Flaminio 2006 (£6.75 S(-)) was a ripe, confident youngster, with damson and cherry flavours in abundance and a fine-boned finish. The only wine falling on the bad side was the Brunelli Brunello di Montalcino 2003 (£29.00 ???), where even the best of a succession of faulty bottles showed little beyond oxidation and muddy fruit. Hopefully an aberration, as the 2006 Rosso di Montalcino (£10,95 S-) was significantly better.
Finally the Ugni, or to be precise the Orvietos from Barberani, each of which was a blend in which Trebbiano/Ugni Blanc played a part. The basic Orvieto Classico Secco 2008 (£6.95 B) was fleshy yet fresh, with waxy pear and herb flavours, while the Castagnolo Orvieto Classico Superiore 2008 (£9.95 B+) managed to be both more rich and creamy yet tangier – try keeping a bottle for 2-3 years more. Finally the Calcaia Dolce Orvieto Classico Superiore 2005, which is now out of stock (S(-)) – shame, as its lush citrus and toffee character, more like modern Tokaji than Sauternes, with a waxy honeycomb edge to the finish, was very appealing.
.
Both Virgin Wines and Averys are now part of Laithwaites, aka the Sunday Times Wine Club and by far and away the major player in the mail order wine market. However, the companies maintain their separate identities – Averys is the more traditional, Virgin its sparky younger brother – and I'd be inclined to steer wine lovers towards these two rather than the parent company, where despite exemplary service, the wines can be a little ho-hum and overpriced. Anyway, the Virgin sextet…



Teddy Hall Chenin Blanc 2008, Stellenbosch, South Africa (£8.99) W
Teddy Hall's the man who until 2008 was responsible for the superb Chenins under the Rudera label, so it's no surprise that the wines under his new label are gems. This has that waxy, pithy intensity often found in ripe Chenin as well as plenty of tangy lemon and apple flavour. Perfect for this summer, but it'll also develop some honeyed edges with further time in bottle. B+
Château Roques Mauriac Bordeaux Blanc 'Classic' 2008, France (£8.99) W
Château Roques Mauriac Bordeaux Rouge 'Damnation' 2005, France (£15.99) R
Two wines from a property I've never come across – click the links above for more info. The white is a plump, friendly blend of Sémillon and Sauvignon Blanc has a touch of ginger to its ripe pear flavours, but is let down by a slightly flat finish. B(-). The red, mostly Cab Franc with 15% Merlot, is a step up in both quality and price. This is plush modern Bordeaux, with the fragrant tar and blackcurrant-like edges of Cab Franc, a touch of berry, and some spicy wood notes. Not for purists maybe, but certainly very tasty. S-



Du Clos Les Salces Coteaux du Languedoc 2006, France (£8.99) R
A gentle juicy bear hug of a wine, predominantly Grenache, with warm autumnal fruit flavours – think briar, plum, damson – pepped up with spice, tar and iron notes. It's big but not too boisterous, the sort of wine that brings a smile to your face. And wops the pants of similarly priced Rhône wines. S(-)
Landelia Single Vineyard Petit Verdot 2006, Mendoza, Argentina (£9.99) R
Petit Verdot as a solo performer can sometimes be just too intense – the wine equivalent of a drum solo. But here's a version that has all the lush violet-scented berry and brown sugar character of the grape without the feeling that you're being cudgelled into submission. Big and thrusting certainly, but balanced – Bife de Chorizo, please. S
Tilia Bonarda 2007, Mendoza, Argentina (£8.99) R
This exotic red comes from the Catena Zapata winery. The smoky cherry and sandalwood flavour are reminiscent of some of those slightly weird reds of north eastern Italy and Central Europe (things like Refosco and Kadarka) and despite its 14% alcohol, it still presents a refreshing face – Virgin classifies it as a Lunchtime Red, although I'm not sure how much work would be done after a couple of glasses of this… B+