…is Caviro Tavernello, according to the packaging of two Tetrapaks that arrived last week – who am I to dispute such a claim?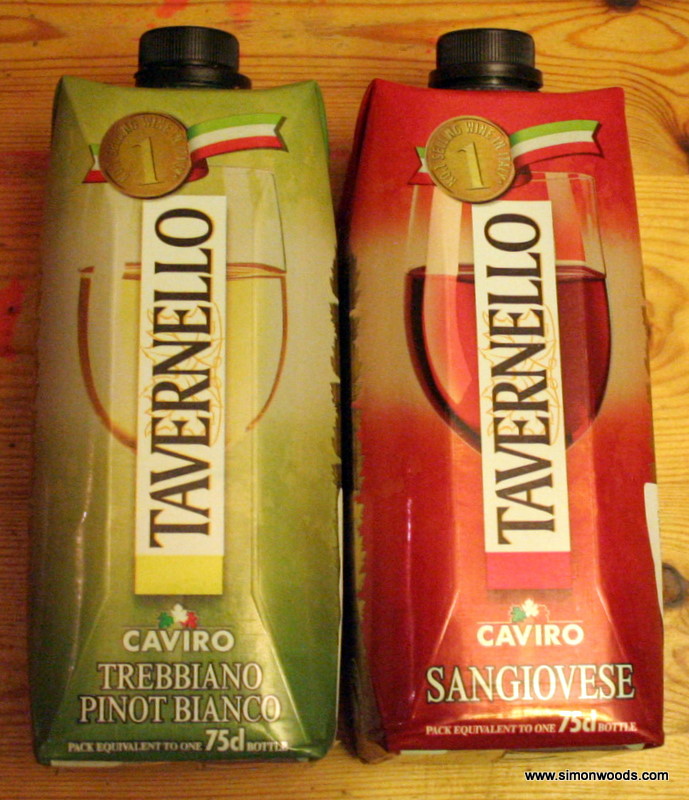 Anyone who's read about my experiences with the top-selling wines in the UK (see here) will know that I wasn't all that impressed. But surely matters must be better in the land of Ferrari and Armani, Parmigiano and white truffles, Marcello Mastroianni and Sophia Loren…
The white first, a blend of Trebbiano and Pinot Bianco (for scholars, it's labelled Rubicone, an IGT from Emilia Romagna). It's the sort of wine for which my notes just say 'STW' – Spot The Wine. Really, there's very little flavour here, beyond a vague pear-drop-like character. It probably makes you go wobbly if you drink too much, but otherwise, it has very little effect on the senses – the wine equivalent of cheap white sliced bread.
The red, a Sangiovese, is also from Rubicone. I'm not sure about the vanilla/boiled sweet character, but there's a bit of cherry bite, and a clean dry finish. A step up on the white certainly, and par for the course for a £3.99 red (from Tesco, as is the white), but still not a great intro to Italian wines
If you do want to experience la cosa vera (the real thing), I'm hoping to post some notes very soon from Justerini & Brooks' recent and splendid tasting of their Italian portfolio. Ciao for now.