4 Comments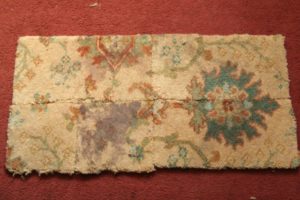 Some people have been in touch since I transferred the blog to the new site saying that while they liked the content, there weren't enough pictures. So here's a picture to keep them happy. Yes, I know, it's a picture of a piece of carpet, what's that got to do with wine? Look closer and you'll see that it's a piece of carpet that's been chopped into five bits. Why? Step forward Wine Away, a specially developed stain remover made from fruit and vegetable extracts and billed by the manufacturers as 'the only red wine stain remover recommended by the Good Housekeeping Institute.'
What about the Woods Housekeeping Institute? I thought I'd give it a whirl. We'll get to the carpet in a mo, but first t-shirts. There comes a time in a man's life when he realises that the snide comments that his wife has been giving him about all his white t-shirts-cum-vests having orange armpits is actually true. Cue trip to the supermarket for six new ones and also cue daddy and daughter heading into the garden to pour red wine all over six old ones – six, because I was going to try six different methods of getting the stains out. How did they fare?
Method 1) Just stick it in the wash
Not the best but surprisingly not the worst method – get it in there quickly and most of the damage will be undone.
Method 2) Run it under a cold tap, then wash
Worst of the lot. If there's nothing else to hand, you're better off just sticking your clothes in the washer.
Method 3) Sprinkle with lots of salt, then wash
Don't bother. It's better than using cold water, but not as good as just a simple wash.
Method 4) Pour white wine on, then wash
Not bad, an improvement on just washing, but there are better ways.
Method 5) Vanish Stain Remover, then wash
Pretty good, and from past experience a second application works even better.
Method 6) Wine Away, then wash
The winner by a slender margin – both this and the Vanish did a good job. It's a bit alarming to see the stain go blue once you've sprayed the clothes, but this is apparently normal. Again, I'm sure a second dose would have been of benefit.
So Wine Away won the t-shirt test – now lets get onto the carpet…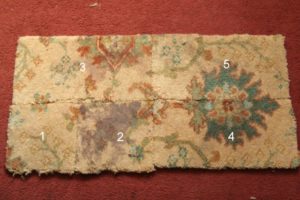 Which bits were which?

Piece 1) A regime of regular soaking with cold water and blotting with a clean towel
This one was a tip from my father in law Howard, who used to have a flooring business. As you'll see, it's worked very well.

Piece 2) Sprinkled with lots of salt, with the remains then hoovered up
Once again, don't bother. It does soak up some of the wine, but you're better off just dabbing the stain with a cloth.

Piece 3) Pour white wine on
Better than the salt, but not by much – it seemed to make the stain lighter but spread it over a wider area. Save your white wine for drinking.

Piece 4) Vanish
Pretty good, and just from one application.

Piece 5) Wine Away
Came up a little lighter than the Vanish-ed piece, again with just one set of squirts.

As with the t-shirts a good performance by Wine Away. Piece 1), the one that was hosed down liberally with water, perhaps came up best, but such action does leave you with a mini-swamp on the floor.

So in conclusion, Vanish put up a good fight but the winner was Wine Away – it's available for £8.99 per canister from www.wineawaydirect.co.uk and from a range of stores around the country.

Categorised in: Recommendation