A couple of years ago, I was asked by someone to do a list of some of the more unusual aspects of Rhône Valley wines – here's what I came up with…
Hermitagé
Wine from the hill of Hermitage was routinely shipped across France in the 18th and 19th century to beef up the wines of Bordeaux. And not just basic claret. Several classed growth châteaux felt no shame in declaring on the labels that their wine had been Hermitagé. With the phylloxera epidemic of the late 19th century, supplies of Hermitage dried up and the practice waned. However, in the last decade, it has resurfaced, and at some of France's best-known estates. In 2004, the renowned Margaux producer Château Palmer blended around 15% Hermitage with one of its cuvées to produce a four-barrel experimental batch called Historical 19th Century Wine L2004. A year later, another famous Bordeaux name, Michel Rolland, joined forces with Michel Chapoutier to produce M² (m carré) – the name M&M had already been taken… Rolland contributed a batch of Merlot from Château Le Bon Pasteur in Pomerol, while Chapoutier chipped in with some Syrah from the L'Ermite vineyard. Don't go looking for it in Threshers however. The wine was auctioned, with the proceeds going to M. Chapoutier Vins et Santé, a charity for children with leukaemia.
Coteaux de Seyssuel
In 1995, three northern Rhône growers, Yves Cuilleron, Pierre Gaillard and François Villard joined forces to form Les Vins de Vienne. They've since been joined Pierre Jean Villa and together run one of the Rhône's most enterprising négociant businesses. However, they also have their own vineyards on the steep hills of the commune of Seyssuel, north of the town of Vienne, and the narrowest part of the northern Rhône valley. It's a place documented as being an excellent source of wine as far back as Roman times, but the vineyards were wiped out by phylloxera in the late 1800s and never replanted. Then in 1996, the talented trio picked out a plot of land on which to plant Syrah and Viognier where the soils and aspect were almost identical to those of Côte Rôtie. They now make four Seyssuel wines. Sotanum and Tabernum are both 100% Syrah, while Heluicum is all Viognier – these names come from Pliny the Elder, who wrote that 'a plant with black grapes, known as Vitis allobrogica, grown in the area of Vienne, produces 3 crus: Sotanum, Taburnum and Heluicum, according to the terroir.' There's no AOC for Seyssuel, so they are labelled Vin de Pays des Coteaux Rhodaniennes. The fourth wine is Cépées Caties – 'withered berries' – made from late harvested Viognier, which doesn't fit into an appellation pigeonhole and has to settle for vin de table status. All deserve serious attention.
(Stockists include Berry Bros & Rudd, Clarion Wines and Armit)
Vin de Paille
No, not Frank Lampard's favourite tipple, this is the Rhône take on the passito wines of northern Italy, in which grapes are allowed to dry on straw (paille) mats before the winemaking process begins. The Rhône version is made from Marsanne from Hermitage, and is as sumptuous as it is rare and expensive, but the honeyed, creamy, marmaladey wine is something every serious wine lover should try at least once. Chave and Chapoutier are the masters, although the Cave de Tain also does an excellent version.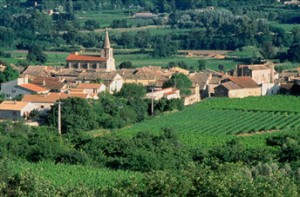 Brézème
Brézème – or Côtes du Rhône Brézème, to give it its full name – is a tiny appellation with a bit of an identity crisis. It lies south of Valence in what is technically the southern Rhône, but the main grapes are those of the north, namely Syrah for rare reds and Marsanne, Roussanne and Viognier for the even rarer whites. In the mid-1800s, the wines rivalled those of Hermitage in both quality and price, but by the early 1960s, less than one hectare of vines remained, with François Pouchoulin being the main grower. Then in the 1970s, Jean-Marie Lombard took over his father's farm and breathed new life into the appellation. For several years he was the only producer of any note in the region, but he now has competition from a handful of other producers, most notably Eric Texier, who has access to Pouchoulin's ancient vines and is putting them to impressive use.
(Stockist: Yapp for Jean-Marie Lombard, HG Wines for Eric Texier)
Die
Pronounced like the Welsh river rather than Welsh forename, Die is a town on the eastern edge of the Rhône valley. A confusing town, when it comes to wine. There is still wine called Châtillon-en-Diois, for which the permitted grapes are Gamay, Pinot Noir, Syrah, Aligoté and Chardonnay, and another called Coteaux de Die, made from the rather basic Clairette grape. There is Crémant de Die, a traditional method fizz made from Clairette and formerly known as Clairette de Die Brut. Then there is Clairette de Die Tradition, a sweet wine made mostly from Muscat (Clairette must be less than 30% of the blend) in the méthode dioise. This involves partially fermenting the wine, chilling it, bottling it, letting it warm up for fermentation to restart, then decanting it off, filtering it and bottling it with an alcohol level of 7-8% and some residual sugar. Got all that? If you haven't, don't sweat – finding any of these quite different styles of wine outside the region is something of a challenge.
Rasteau
As well as being one of the 'named' places that is entitled to append it name to the in the Côtes du Rhône-Villages appellation, the commune of Rasteau also produces vin doux naturel, made predominantly from Grenache – Noir for the red, Gris and Blanc for the less common white. As with many VDNs, methods of ageing differ from cellar to cellar, with some bottling the wines young and fresh, others giving them cask ageing, while still others pursue the rancio style. The wines from André Romero's Domaine la Soumade are probably the finest examples. Two other Vaucluse communes, Cairanne and Sablet, can also sell their VDNs as Rasteau.
Domaine Viret
Never mind organic farming, on their estate in the commune of Saint Maurice sur Eygues in the southern Rhône, father and son Alain and Philippe Viret practice Cosmoculture. According to the Virets, it's based '…on exchanges between cosmic and telluric [terrestrial] energies.' Cosmoculture makes conventional biodynamic practices look positively mainstream. So for example you'll find menhirs (the things that Obelix delivers, for Asterix fans) in the vineyards, placed so as to direct those telluric energy fields. The winery, sorry, 'cathedral of wine' is inspired by ancient Inca and Mayan cultures and aligned according to the position of the sun on Philippe's birthday in 1973. The massive granite blocks used for construction are sized according to the Royal Cubit (~524 mm) and the shape of the cathedral conforms to the Golden Section. Add in mystic fountains, crystals, amphorae and more and you have one of the world's weirdest wineries. But the wines are excellent, brimming with life and personality, and deserve serious attention. If you want to find out more about aspects of Cosmoculture such as Radionic Culture, Geobiology, Planetary Beacons and Water Memory, check out the Viret web site at www.domaine-viret.com. And if you want to try the wines, they're imported by Artisan Wines.
St Péray
The forgotten appellation of the northern Rhône, St Péray seems like something of an anomaly in a red wine-dominated region. Yes, there are a couple of other white wine-only AOCs in the form of Condrieu and Château Grillet, but they aspire to – and often achieve – greatness. But historically, the Marsanne and Roussanne-based sparkling and still wines of St Péray haven't shone. However, there are signs that this could be changing. This is one part of the northern Rhône where vineyards are still available at relatively affordable prices. There's no reason why vineyards with the best terroir – south-facing sites with granite soils similar to those of neighbouring Cornas – shouldn't yield some excellent, ageworthy wines. While sparkling wines have dominated production in the past, don't be surprised to see more good still whites appearing in the future to compete with those from Bernard Gripa and Alain Voge.
Not just Côte Rôtie
The rise in popularity of Syrah-Viognier blends can be traced back to Côte Rôtie, where the appellation permits the addition of up to 20% Viognier to soften and add fragrance to the sterner Syrah. But it isn't the only Rhône red that can contain white grapes. Châteauneuf du Pape famously contains 13 different grape varieties, of which six – Picardan, Clairette, Roussanne and Bourboulenc, plus the light-skinned variants of Grenache and Picpoul – are white. And in the northern Rhône, Cornas is the only red wine appellation that doesn't allow white grapes in the blend. Marsanne and Roussanne can make up 15% of the blend in Hermitage and Crozes Hermitage, and 10% in St Joseph. That few growers actually use any white grapes is another matter entirely.
No saucers, no cigars
On October 28 1954, the Mayor of Châteauneuf-du-Pape issued the following decree:-
Article 1. The taking-off, landing and flying overhead of the aircraft known as flying saucers or flying cigars, of whatever nationality, are prohibited in the territory of the commune of Châteauneuf-du-Pape.
Article 2. Any such flying saucer or flying cigar landing on the territory of the commune will immediately be taken to the pound.
Article 3. The village police officer and urban police officer, in their respective jurisdictions, are responsible for enforcing this decree.
The law, still to be repealed, was the inspiration for the Bonny Doon's Châteauneuf-esque blend Le Cigare Volant.
(All images provided by Inter-Rhône)