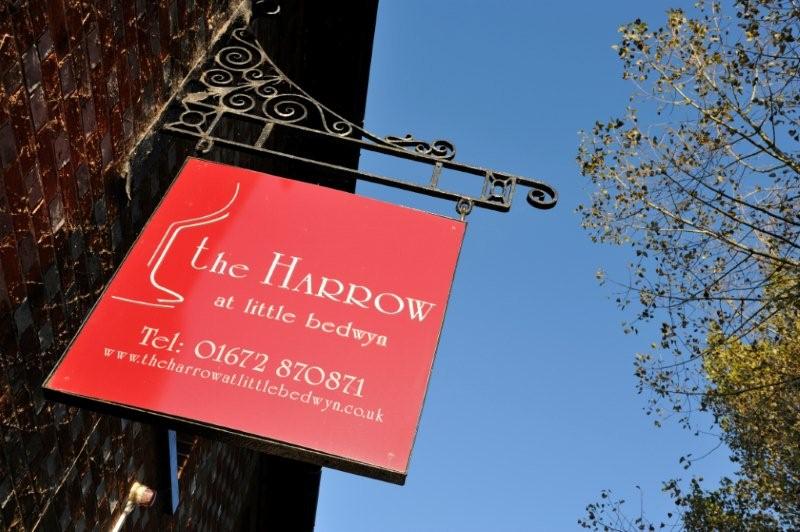 Not sure what I'll be cooking tonight, but it won't be a patch on the super Portuguese Gourmet Dinner Jill & I tucked into at the one-starred Harrow in Little Bedwyn near Marlborough on Wednesday evening. Owner/chef Roger Jones is one of those people whose enthusiasm for wine has developed to the point where every available nook & cranny in the place seems to have bottles stuffed in. Over the last few years, he's dropped more than a couple of stones in weight, for health reasons he says, but I reckon it's so he can cram even more bottles into his poky but packed little cellar – heaven knows how he and the staff find their way around it. And heaven knows how his wine-savvy customers manage to narrow down their choices in a list that covers most regions in the world with considerable panache but that excels in Australasia.
Portugal is slightly new territory for the Harrow, but inspired by a tasting I conducted at the Celtic Manor in South Wales last year, Roger and his wife Sue decided to run a Portuguese promotion, and invited me to host a dinner. Few of the guests had had much experience of Portuguese wine beyond Mateus, but I think most left as converts. On to the wines then…
Casa de Mouraz Rose 2008, Dão
From a biodynamically farmed estate, this is a cocktail of some of Portugal's more famous grapes – Touriga Nacional, Tinta Roriz (aka Tempranillo) and Alfrocheiro – with the less familiar (Jaen – the Mencia of Spain) and the totally unheard-of. Even Sara Dionoso and Antonio Ribeiro who run Casa de Mouraz don't know all that much about the Agua Santa grape, a cross between Touriga Nacional and Castelão that was created in 1948, but mostly abandoned due to its erratic nature. Don't ask me what the typical varietal character is then. But the blend is very successful, giving a deeply coloured, quite full-bodied, strawberry-scented pink that managed to be both refreshing and heart-warming on a rather chilly summer evening.
Reguengo de Melgaço Alvarinho 2007, Vinho Verde
Portuguese Alvarinho tends to be lighter and more savoury (even salty) than the Albariño grown on the opposite side of the Minho River in Spain's Rias Baixas. This has lovely apricot, pear and peach characters, underpinned with bracing briny citrus acidity. Served with Arbroath Smokie Croquettes and Smoked Milk Shake – think fish fingers for grown-ups.
Esporão Branco Reserva 2008, Alentejo
Wine of the night for many people, this is an oak-aged blend of Antão Vaz, Arinto and Roupeiro. It comes across as something like white Bordeaux meets Rhône, with some of the oak-tinged tinned pear and gooseberry of the former with the heady waxy floral edge of the latter. Rich but fine-boned, built to last for another 3-4 years at least, and a wow with Langoustine Dumplings
Malhadinha Antão Vaz da Peceguina 2007, Alentejo
A lighter wine than the Esporão – why this order? Because Roger wanted to have it working almost like a sorbet in between the langoustine and the red meat. Good idea, good wine, gentle and delicate, with melon and lemon and a touch of honey. Not as long-lived as the Esporão, but the way it opened up in the glass suggests there's no rush to drink it up. And with a spectacular Wild Scottish Salmon Tartare, it shone.
Malhadinha Nova Tinto 2006, Alentejo
First up of two reds served with a Seared Fillet of Pure Bred Welsh Black Beef, this is wonderfully seductive wine, deep in colour thanks to the Alicante Bouschet that makes up a large part of the blend, but with velvety black fruit and brown sugar characters as well. Full-bodied and built to last, but, as with the Ben Glaetzer Barossa reds of which Roger is so fond, also incredibly attractive at a tender age.
Luis Pato Vinha Pan Tinto 2003, Beiras
A real contrast to the Malhadinha – if that was Barossa, then this is something like Barbaresco, with the accent on fragrance and tannin rather than power. Lithe and charming, with blackberries, pepper and woodsmoke aromas, it's one of those you could just sit and sniff. Not surprisingly, opinion was divided as to which was the better of these two great reds.
D'Oliveiras Reserva Verdelho 1973, Madeira
Served with Shropshire Blue, quince jelly and fennel biscuits, I'd have like this in a proper glass rather than a shot glass, but it was still good – how many 36-year-old wines still taste young? Fresh, lightly nutty with that lovely balanced between dried fruit and spine-tingling acidity.
Quinta do Portal Moscatel Reserva 1996, Douro
Not a port to finish, but a fortified Muscat from the Douro, all marmalade and caramel flavours, with the tang of peel on the finish, and delicious with a Banana and Ginger Spring Roll whose filling included fresh pistachios.
Importers:-
Raymond Reynolds – Casa de Mouraz, Malhadinha and Luis Pato wines
Hallgarten – Reguengo de Melgaço
Charles Hawkins – Esporão and Quinta do Portal
Nickolls & Perks (and others) – D'Oliveiras