I've got aching upper arm muscles today. Was it a strenuous boxing work out on Wii Fit? A marathon Swingball session in the garden with kids? Or was it having to manhandle two wine bottles that were so heavy that they made your wrists wobble even when they were empty? They were straight out of the silicon implant school of wine packaging, the mine's-bigger-than-your mentality. How heavy were they precisely? See below…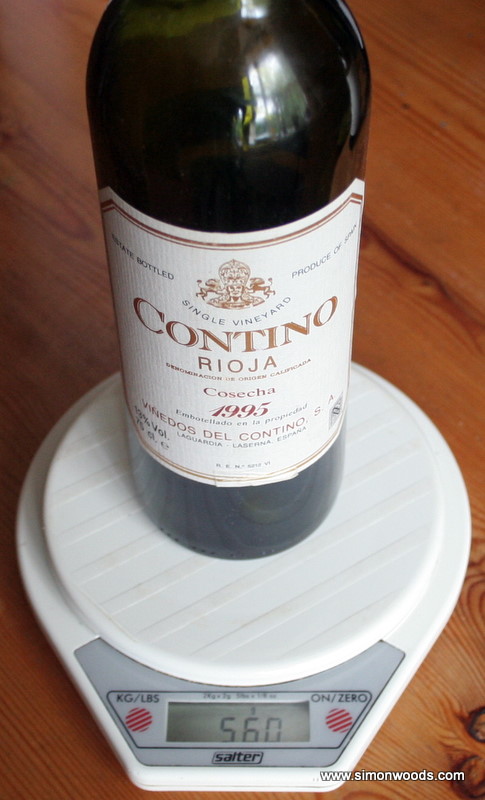 So that's a regular bottle, the wonderfully floaty Contino Rioja 1995 which danced gracefully over the course of an evening, and reminded me of nothing more than one of those slightly suspicious Burgundies you could once find, where whatever Pinot Noir there was in the blend (and sometimes there was next to nothing) had been padded out with a generous draft of the warm south. Warming, welcoming, aromatic yet hearty, a wow with some pork fillet baked in the ovening in a mushroomy shroud. Weight of bottle empty, 560g.
But as for our two monoliths…
Yes, the first came in at 1012g, while the other was a whopping 1196g – and that's without there being any wine in them. I mean, je te demande, who are they trying to impress? Do they seriously think our heads will be swayed just because the bottle wants to be Arnie? Now normally the wine inside these monoliths is trying to show off just as much – wine you could walk a mouse over, as a friend of mine puts it. Overripe, overoaked, overalcoholic etc. But these two, while certainly not from the mousy librarian camp, were actually not OTT.
The left hand one is Santa Helena Don 2005 from Chile's Colchagua Valley. Don is one of those names which, like Gran doesn't translate too well into the English language (it stands for De Origen Noble). Mostly Cabernet Sauvignon pepped up with Merlot and Carmenère, it's just so Chilean, with that slightly minty blackcurrant pastille intense and grainy tannins. I like it's honest flavours, but I'm not convinced that there's much complexity here. And at ~£35, I think I deserve some.
The right hand one, winner of the 'shit that's heavy' award, is the Monte da Cal Vinha de Saturno 2004 from the Alentejo. It's from the dynamic Dão Sul operation, which has wineries dotted around several Portuguese regions (and Brazil), and is a blend of Trincadeira, Aragonez and Alicante Bouschet (some versions also have Baga and/or Touriga Nacional in there somewhere). But whatever its make up, this is good wine. It starts off on the strong and silent side, but then opens up to reveal a strong iron-like minerality, heady aromas of tobacco and olives, and intense but relaxed flavours of berries, blackcurrants and cherries, tinged with chocolate and vanilla. Excellent and very promising, shame about the show-off bottle.