Another excellent Riesling to celebrate 31 Days of Riesling
Dönnhoff Dry Riesling 2016, Nahe, Germany (£16-19 see Wine Searcher – many shops/restaurants are still on the 2015)
Leaps out of the glass to greet you with a gush of green apple, ripe lemon and grapefruit aroma, but alongside all this perky freshness and stony minerality, there's also a richer muskier side – apricots, guava and melons. Still young, with a prickle of CO2, but I'd happily dig into this with some ceviche. S+
——————-
If you didn't see the video from yesterday featuring Dr Loosen's Red Slate Dry Riesling, it's HERE. I visited both Loosen and Dönnhoff earlier this month, and it was fascinating to be able to compare the two, in terms of both the wines and their creators.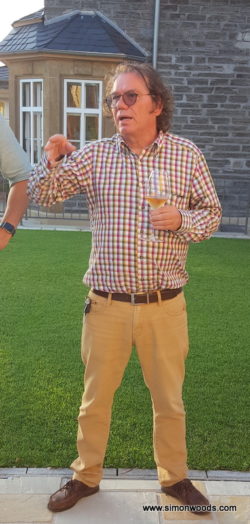 Ernie Loosen lives at 100 miles an hour – on a slow day. He's a fabulous ambassador for Riesling, the Mosel and German wines in general, and as well as running his Mosel estate, owns Villa Wolf in the Pfalz (more of them in a couple of days) and is involved in a couple of joint ventures on the West Coast of the USA, namely Eroica in Washington State (for Riesling), and J Christopher in Oregon (majoring on Pinot Noir).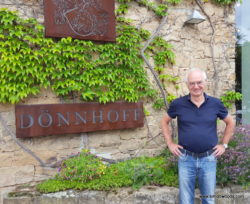 The Dönnhoff family live life at a gentler pace, staying out of the limelight and concentrating on getting the most out of their Nahe vineyards. The chief winemaker now is Cornelius Dönnhoff, but his father Helmut, who more than anyone established the estate's reputation, remains very much on the scene.
Both are blessed with a portfolio of excellent vineyards, and know them inside out, and both make wines in a fairly traditional manner, with long, leisurely fermentations taking place either in large old oak casks or stainless steel. At both estates, there are excellent Rieslings at all sweetness levels that are delicious when young but age brilliantly.
If I had to describe the differences between the two, one is that Loosen does a lot of things very well, while Dönnhoff does fewer things extremely well. With each, you can pick any bottle form the range and know that the quality will be decent and most of the time much better than that. But I found higher highs in the Dönnhoff cellar, with the wonderfully tender, layered 2016 Hermannshöhle Grosses Gewächs being the star of the dry wines while the 2016 Oberhaüser Brücke Auslese Goldkapsel being as good a sweet wine as I can remember trying in recent years – shame it's only available at the annual Bad Kreuznach auction..
However, the most remarkable wine I tried from the two estates was from Loosen. No, it wasn't the 2015 Ürziger Würzgartern Alte Reben Reserve, even though it was impeccably balanced, with its heady peach and mango intensity set against tauter stony citrus acidity. Nor was it the equally vibrant but plumper 2015 Wehlener Sonnenuhr Auslese, with its succulent quince, peach and lime flavours.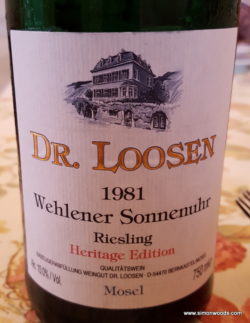 No, it was an oddball, a 1981 Wehlener Sonnenuhr that had been kept in (an old, large) barrel for 27 years and finally bottled in 2008. Golden yellow in colour with scarce a hint of browning, it reminded me of classic old white Rioja (think Tondonia), with some of that soft mellow woodiness combined with the pithy bite of Riesling and a touch of richer apricot flavour. While it was a one-off experiment, it showed Ernie that the old Mosel practice of giving Riesling lengthy barrel aging was worth a revival. As a consequence, his top dry wines now spend 2-3 years in cask prior to bottling.
So overall, two very impressive producers whose wines deserve as wide an audience as possible. Go and seek some out…