A break from Riesling for today to concentrate on Pinot Noir.
Villa Wolf Pinot Noir 2015, Pfalz, Germany (£10-12 see Wine Searcher, also Waitrose under the Johann Wolf Label)
A lush, friendly style, with warm squishy strawberry and black cherry flavours, a hint of woodsmoke and a firm but juicy finish. Germany, can we have more Pinot Noir like this at this price please? S-
—————-
Not that Villa Wolf doesn't do some great Riesling. The top site is Forster Pechstein (rated Grand Cru) and the 2015 Dry Riesling is a lovely wine combining an almost creamy texture with minty herb-scented, mineral-rich citrus flavours. Not far behind is Wachenheimer Belz (rated Premier Cru), which again has that mint tinge to its precise fruit, along with notes of – yes – red berries. The Villa Wolf Dry Riesling is also a tasty, twangy youngster, and like all the rest of the wines in the "basic" range is keenly price and a great intro to German wine.
But back to Pinot Noir. Germany isn't the Fürst place (see what I did then?) that springs to mind when Pinot is mentioned. However, evidence from my jaunt last month is that it can be a very serious player with this tricky grape.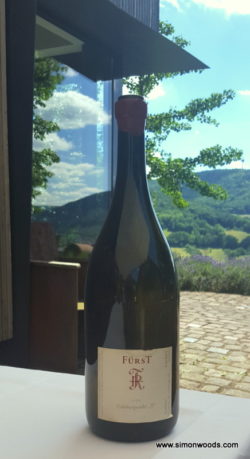 At the Fürst winery in Franken, more than half the plantings are of Pinot Noir AKA Spätburgunder and its earlier ripening relative Frühburgunder – Früh means "early", Spät means "late". Many of the Pinots had a noticeably spicy edge alongside their red berry and cherry. It's now seems the norm with German wine to talk of quality levels in Burgundian terms – village wine, premier cru and grand cru. The better sites are farmed to yield lower crop levels, so the yield in Fürst's Grand Cru vineyards, Centgrafenberg, Schlossberg and Hundsrück, is around half that for the village wines. It shows too, with extra depth, complexity and ageability – a 2008 Schlossberg was beautifully supple and elegant, with an almost Barolo-like iron tinge. Hundsrück was my pick of the current vintage, but the deep, brooding 2015 is going to need a decade or more to reach its peak.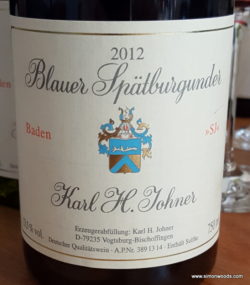 I'll be touching on Fürst's Rieslings in a couple of days, but let's stick with Pinot for the moment, and let's make a temporary leap to the other side of the world. The Karl Heinz Johner winery is in Baden in southern Germany, but the family also has a vineyard in Gladstone in the Wairarapa region of the New Zealand's North Island. We tried two 2014 Pinots from here, both of them plump, plummy and intense, with the Reserve bottling having extra floral aromas and a firmer tannic backbone. In comparison, the German Johner wines were lighter and earthier, but still very good. Star of the range was the 2012 Blauer Spätburgunder "SJ", which with its tight flavours, firm tannin and rich fragrant fruit had more than a little of the Pommard about it. Its little brother, the 2014 Blauer Spätburgunder (£19.99 Waitrose), makes a very appealing, cherry-rich alternative.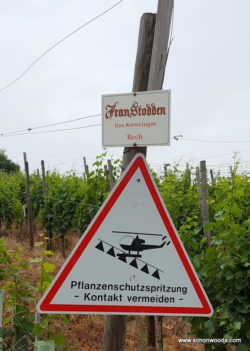 But the best Pinots were those from the Jean Stodden winery in the Ahr. Alex Stodden grows a little Riesling, but Pinot is clearly his passion – he even makes a Blanc de Noir which reminded me of Alsace Pinot Blanc. What marks them out is their balance, with supple, tender fruit fleshing out the structure of firm but never OTT tannin and tangy acidity, with note of perfume and spice adding extra layers of complexity. The entry level Spätburgunder sets the tone: pretty red cherry and raspberry flavours, a hint of pumice stone, floral aromas and a firm but juicy finish. Yum. At the top end of the range, the 2014 Herrenberg had an almost briny note to its intense earthy red berry flavours, along with the wild truffley allure that jumps out of great Pinot. We tasted through the 2016s from barrel, which was a treat – if someone offers you a chance to try his Alte Reben cuvée, jump at the chance, and if necessary, push others out of the way. And the 2016 Herrenberg Frühburgunder from barrel was also a treat, spicier and less firm than the Pinots, but still with that lovely gushing fruit.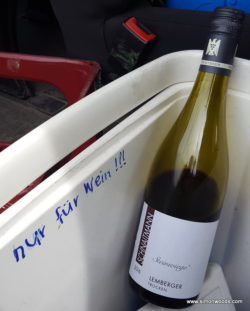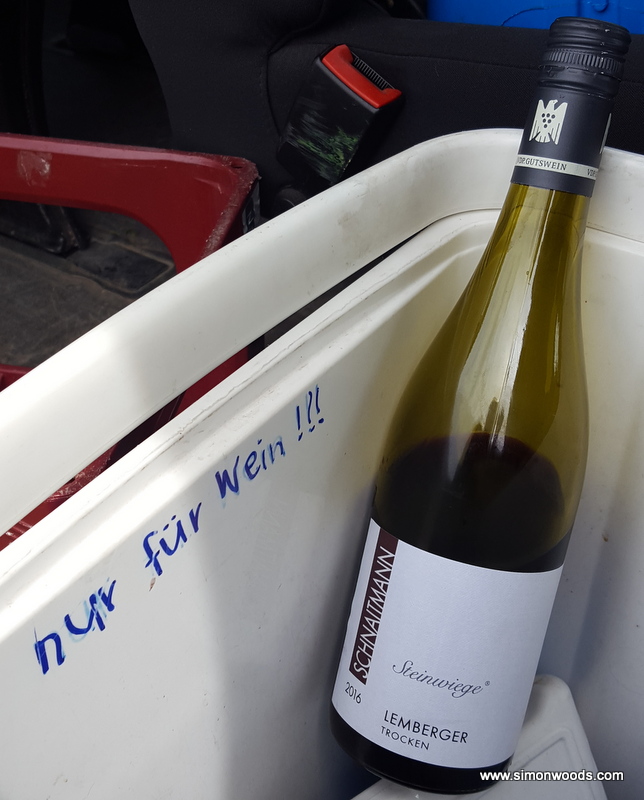 As for other reds, one of the surprises of the trip was tasting top class Lemberger (AKA Blaufränkisch) from Rainer Schnaitmann's winery in Württemberg. On a hot June day, his chilled Steinwiege 2016 drunk fresh from the esky in the vineyards was a perfect summer red, awash with friendly fruit with a dry, spicy finish. Back in the cooler confines of the winery, the 2014 Lammler Lemberger was a dense, peppery red that backed in the flavours of smoky dark berries and blackcurrants, with an earthy twist to the finish. Already very tasty now, it's a wine with a great future ahead of it.