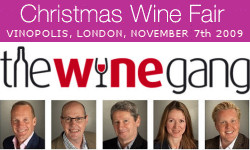 Apologies for the rather lame title, I did try to think of something more stimulating, and then I made the mistake of putting the word 'Gang' into Google Keywords – bad, bad move…
If you don't know the Wine Gang, it's a group of five of UK wine writers – from L to R in the pic above, Tim Atkin MW of the Observer, Tom Cannavan of wine-pages.com, Anthony Rose of the Independent, Joanna Simon of House & Garden and Olly Smith of BBC1's Saturday Kitchen – who have, er, ganged up to offer their expertise to a wider public. They're holding their first public tasting in London on November 7th, at which there'll be over 500 wines to taste, from more than 70 different retailers.  Highlights will include a series of free 'Wine Walks' conducted by the Gang, and the announcement of the inaugural Wine Gongs – the Gang's awards for the best wines of the year.
Tickets cost £20 for the morning session and £22.50 for the afternoon session, with Wine Gang members receiving a discount on these prices. For more information, visit the Wine Gang's web-site here, or go direct to the Vinopolis site here.
PS The Gang also has a Wine Gang Live site here. Please feel to send your ideas for what Tom Cannavan might be describing on the image for the Oct 3rd video post…