.

.
Portuguese Wines at the Harrow
Have just done a blog post from a tasting dinner a couple of evenings ago – not much point repeating the notes here so check them out on this page.
.
The Character Series By Philip Shaw
This is the second tier of wines made by ex-Rosemount winemaker Philip Shaw from his high altitude (over 900m) vineyards in the Orange district of New South Wales. Each character depicted on the labels – Architect, Dreamer, Wire Walker, Conductor, Idiot – is intended to depict something of their maker's character, and they should all retail for around £10. I found it a competent range that with the exception of the Chardonnay didn't really set the pulse racing. Shame, as the labels are lovely.
The Architect Chardonnay 2008
Clean, crisp, tangy style, with a leesy richness, hints of vanilla and cashews, and taut finish. This still feels young, but it opens up to show some pithy citrus and melon flavours. Best of this quintet. S-
The Dreamer Viognier 2008
Fruit Salad chews, that rich creamy kernel edge, apricot yogurt, rounded and rich, slight edge of ginger, again, young and forceful wine, still feels like its best is still to come. B(+)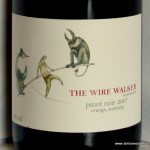 __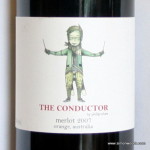 __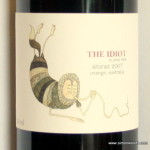 The Wire Walker Pinot Noir 2007
I know you shouldn't judge Pinot by its colour, but this already looks over-mature. There's a touch of that odd minty/herbal character that many Aussie Pinots have, but as it opens up, gentle raspberry and strawberry flavours emerge and show it in a better light. But still not a stunna. B-
The Conductor Merlot 2007
Rather sweet, shoe-polish-like aroma; quite prominent oak character, also quite Bordeaux-like in structure, with the freshness and oak influence, but the fruit flavour has just too much of a skin-y character, as if some of the fruit had started to shrivel on the vine before the tannins were fully ripe. Would have been better for a little less extraction, but there's still an attractive plummy side, and I wouldn't be surprised to see this mellow with age. B(-)
The Idiot Shiraz 2007
Blue Riband biscuits, the oak here is just a little OTT at the moment, and even after it's been open a few hours, it's still the dominant element – you're left wishing for some lively plummy fruit to provide some relief from the wafer edge. B-
.
Two Merlot-y wines
Yali Winemaker's Selection Wetland Merlot 2008, Colchagua (£6.49 Tesco)
Big, slightly baked, charred wood edges, but there's a rather false minty vanilla edge that gets in the way, dominates the finish, and really doesn't provide any pleasure. There's some vague warm berry fruit behind, but that overt vanilla edge masks it. Distinctive but not nice. 0
Réserve Saint-Clair Puisseguin St-Emilion 2006, Bordeaux, France (£13.99 Tesco – £6.99 to July 29th)
Gentle perfumed cedary claret, already with a touch of maturity. The light blackcurrant flavours are good, and it's not as heavily-extracted as some of the other wines from the Yvon Mau stable, but there's just a touch of bitterness taking pleasure away from the finish. An OK buy at the offer price, but not good value at £14. B-
Monday whites
Gonzalez Byass Altozano Verdejo/Sauvignon Blanc 2008, Vino de la Tierra de Castilla, Spain
(trade price £5.35 Matthew Clark)
OK, it's not in the same league as the top sherries from Gonzalez Byass, but then that's not the aim. As an easy drinking youngster, with nectarine and lime flavours to the fore and a hint of (honest) aspirin in the background, it does its job competently. Let down by a slightly flat finish, but decent enough. B-.
Royal Tokaji Furmint 2006, Hungary
£8.99-9.99 Royal Tokaji Wine Company
Furmint's the main grape of the sweet nectar that is Tokaji (Tokaj is the region, Tokaji the wine, Tokay the anglicised version of the latter). Like Sémillon in Bordeaux, it's a weighty, not especially aromatic grape that is susceptible to botrytis but can also (in the right hands) be pushed to deliver decent and quite full-bodied dry whites. Such as this. It's a rich, rounded wine with ripe red apple flavours tinged with a note of woodsmoke, and a honeyed/burnt sugar note on the finish. S-