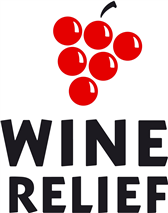 Do You…
A) …like wine?
B) …think contributing to worthy causes is a good idea?
Answered 'yes' to both? Then you need Wine Relief.
Wine Relief was founded by Jancis Robinson and her husband Nick Lander, with the aiming of getting wine lovers to swell the Comic Relief coffers. Since the first campaign in 1999, Wine Relief has raised nearly £4 million, thanks in no small part to the generosity of several of the UK's major retailers. For 2011, six companies – Booths, Laithwaites, Majestic, Marks & Spencer, Virgin Wine and Waitrose – have each selected a range of wines, and 10% of the proceeds from sales of these will go directly to Comic Relief. I've just finished tasting my way through their selections, and to see how I got on, just click on the links below to go directly to the page for each of the wine merchants.
Booths
Laithwaites
Majestic whites and reds
Marks & Spencer whites and reds
Virgin Wines whites and reds
Waitrose whites and reds

For other Wine Relief news, click here. for my version or here for the Facebook page (created by Wink Lorch)
And while you're here, I have a question for you. And it's a question about questions. I do dozens of tastings each year for everyone from experienced members of the wine trade to those who say, 'I don't know much about wine but I know what I like' – great title for a book
… The wine trade? They know everything, they don't need to ask that many questions because they know all the answers. But with those just beginning to explore, it's quite different. You can almost see the questions oozing from every pore. Why does it taste like [insert curious fruit of your choice]? What did you mean when you said [it tastes of earwax/beach pebbles/rubber bands – delete as appropriate]? Do I need [insert appropriate strange artefact]? And so on…
So what has always puzzled you about wine? Fill in your question on the contact form on the LH side of this page and I'll do my best to answer it, either in print or on a video. And to see what questions I've already answered, click here.