Cheap but definitely not very cheerful
Spent a rather dismal morning looking at some of the cheapest wines in the supermarkets for a piece due to appear in Harpers Wine & Spirit soon. I set an upper limit of £3 a bottle prior to any discounting, at which level some retailers (Booths, Waitrose, M&S) have nothing to offer. UK duty is currently running at £1.85 per bottle, and once profit margins for the producer and retailer, packaging and shipping have been taken away from the remaining £1.15, the cost of the wine itself is minuscule (a note on the scores of these – normally I'd give a wine that doesn't make the grade 0 but since at this level, there are understandably several zeroes, I've used + and – to indicate those that are better or worse than the others)
ALDI
Amandus Kellerei Liebfraumilch 2008, Nahe, Germany (£2.88)
Some citrussy fruit here, but then a rather stale hamster-cage-like quality takes over the finish – pity as it was nearly quite nice. 0
Collezione Italiana Bianco Vino da Tavola, Italy (£2.99)
Sulphur dioxide, simple, CFDN (crisp, fresh, dry, neutral), reasonably balance, a hint of pine, undemanding, not much flavour. 0+
Collezione Italiana Rosso Vino da Tavola, Italy (£2.99)
Simple cherry, slightly stale, hint of almond. Not fine but not dreadful. 0+
ASDA
Asda Hock Deutscher Tafelwein, Germany (£2.72)
Slight spritz, that honeyed floral edge of cheap German wine, it's not horrible, but it's not appealing. 0
La Comida White Vino de Mesa, Spain (£2.38)
Has some pith and bite, still not great, but it's fresher than some, vague apple notes. 0+
Seven Hills Rosé Vino da Tavola, Italy (£2.98)
I tried 2 bottles of this. One was a little on the tired side, but the other (bearing an IWSC logo on the front) was much fresher, just off-dry , with quite vibrant raspberry and cherry flavours. C
Asda Portuguese Rosé Vinho de Mesa, Portugal (£2.97)
Simple and short with a hint of sherbet, but it has a pleasant rhubarb-like bite it. C-
La Comida Red Vino de Mesa, Spain (£2.38)
Some attractive spice to start with, but then goes thin and sulphury, and finishes very stale. 0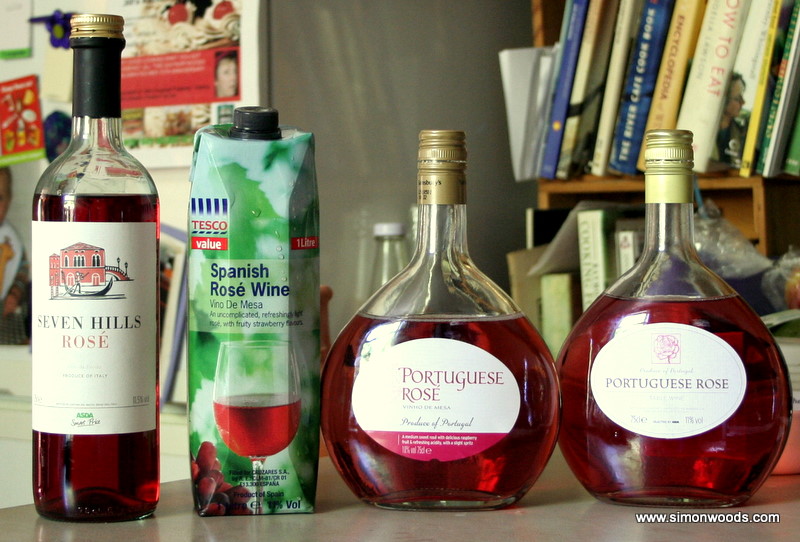 MORRISONS
(tasted after these pics were taken)
Schmitt Söhne Hock Deutscher Tafelwein, Germany (£2.72)
Clean, ripe, has decent floral edges to the fruit, a little flat on the finish, but basically sound. C-
Felix Solis Sol de España White Vino de Mesa, Spain (£2.49)
Slightly neutral, but at least there's some freshness here, along with some vague nutty lemony flavour. C-
Felix Solis Sol de España Red Vino de Mesa, Spain (£2.83)
Lively, juicy young fruit, red berry with a hint of vanilla, really not bad at all. C
NETTO
Celliers de l'Iliade Baron de Mériac Blanc Vin de Table, France (£2.99)
Rather flabby, oxidised style, not pleasant, stale finish. 0-
Kleinberg Hock Deutscher Tafelwein, Germany (£2.72)
Ronseal Hock, does exactly what it should do. Some citrus edges, a floral note and some fresh acidity on the finish. Simple but honest. C
Celliers de l'Iliade Baron de Mériac Rouge Vin de Table, France (£2.99)
Simple, vague spicy dark fruit, but stale finish. 0
Baron Romero Tinto Vino de Mesa, Spain (£2.69)
Sweet, almost like mulled wine, with a rather unpleasant quinine-like note – thin and stale. 0-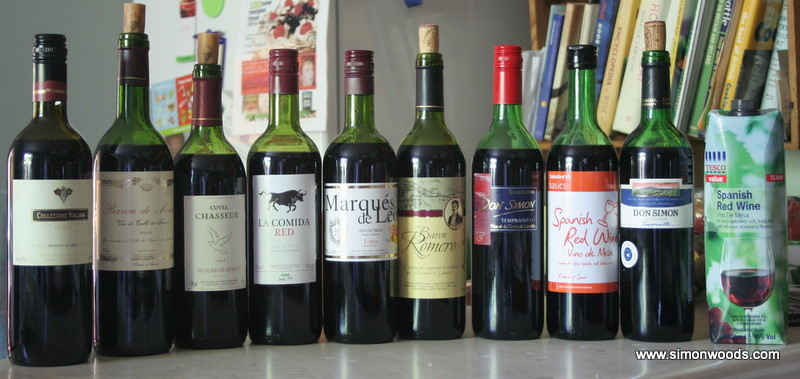 SAINSBURY'S
Sainsbury's Soave, Italy (£2.99)
Has some weight and fruit, slightly peachy, nutty style, this actually is pretty reasonable wine, with a fragrant pine-like character. C
Sainsbury's Basics Spanish White Wine Vino de Mesa (£2.53)
Off-dry, grapey style, almost like a Spanish Liebfraumilch, stale finish. 0
Sainsbury's Portuguese Rosé Vinho de Mesa, Portugal (£2.98)
Off-dry with some spritz and a strawberry edge, but it's just a little short & harsh. 0+
Don Simon Tempranillo Seleccion Vino de la Tierra de Castilla, Spain (£2.99)
Looking jaded and oxidised, seems like an OK wine that's been badly treated. 0 (a wine at £3.29 from Waitrose of the same name but with a different label was much better, with earthy berry fruit and a hint of chocolate)
Sainsbury's Basics Spanish Red Wine Vino de Mesa, Spain (£2.53)
Sulphury, thin, tart, stale – and as with the white, the packaging is horrible too. 0
TESCO
Marqués de Leon Blanco Vino de Mesa (£2.83)
Quite neutral, short, basic, lacks freshness, not really. 0
Tesco Value Spanish White Vino de Mesa, Spain (£3.11 per litre = £2.33 per regular bottle)
Simple, fresh, quite rounded, absolutely nothing wrong here, this could maybe use some acidity, but as a drink, it's OK. C-
Tesco Value Spanish Rosé Vino de Mesa, Spain (£3.11 per litre = £2.33 per regular bottle)
Hopelessly reduced, nothing that makes me want to put this anywhere near my mouth again. 0-
Marqués de Leon Tinto Vino de Mesa, Spain (£2.94)
Overdone thin sulphury style, not nice.   0-
Tesco Value Spanish Red Vino de Mesa, Spain (£3.11 per litre = £2.33 per regular bottle)
Very reduced, sulphury, does have OK fresh fruit behind, but not clever. 0
As you'll see there were a few shafts of light, but they were few and far between, and the message – and it's a message that the supermarkets themselves are keen to stress – is that spending a little more money gets you significantly better wine.
a
Two Wednesday night reds

Château de Sérame Minervois 2006, Languedoc, France (£10.99 Handford Wines)
Dourthe is better known for it Bordeaux range, but the company also owns Château Sérame an estate with 175 hectares of vines straddling the border between Corbières and Minervois. This cuvée from the gravelly soils of Minervois is mostly Mourvèdre and Grenache with around 12% Carignan. The first gives the savoury wildness and blackcurrant edge, the second some berry warmth while the Carignan adds notes of coal tar and white pepper. Like many Mourvèdre-based wines, it needs time to hit its stride, but once there impresses with its wildness, freshness and staying power. S(-)
2008 Pago de los Capellanes Ribera del Duero Joven Roble, Spain (£13.99 Ann et Vin, Great Grog, Hennings, Amps Fine Wines)
This wine's one of those that I look forward to in each vintage. Some Ribera del Duero is of the stern and serious type, and indeed the top cuvées here – El Nogal and El Picon – need years to reach their peak. But this, the entry level wine, which spends around 5 months in oak, is just so darn gluggable from the word go. Fruits such as blackcurrants, blueberries and plums vie for attention, and there's also a warm dusty spiciness in attendance. Behind it all, there's a freshness and life often missing in some more ambitious wines from the region. Delicious now, better by Christmas, and with another 3-4 years of life beyond that. S-
a
You say Chileno, I say Chilano…
Over the past few years, you may have tried the wines called Chileno, a brand developed by UK wine company PLB in conjunction with Chile's Viña Ventisquero. In the spirit of Marathon becoming Snickers and Norwich Union becoming Aviva, Chileno will now be called Chilano. Not precisely sure why, although the idea of having Chile – No! on the labels never struck me as particularly wise…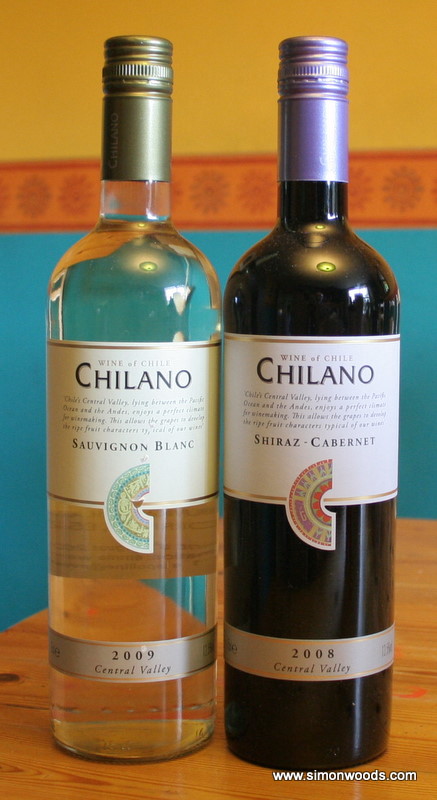 Anyway, onto the wines, all from the Central Valley, all with an RRP of £5.99, although there are a number of offers on over the next few months (the vintages I've tasted may not be the ones currently in stores).
2009 Chardonnay/Sauvignon (Somerfield)
Simple greengage and citrus, a slightly smoky edge, reasonably fresh, but a bit hollow on the finish. C(-)
2009 Sauvignon Blanc (Co-op, Morrisons)
Gentle grassy style, a touch of lime jelly plus a more exotic guava-like note. Again, let down by a rather short finish. C+
2009 Chardonnay Semillon (Tesco)
Forward and friendly, slightly peachy and toasty, quite flesh but again, could use more length. C(-)
2008 Chilano Rosé (Co-op, Somerfield, Morrisons)
Mostly Merlot with a dash of Syrah, this has a slightly hard edge to its plummy raspberry and toffee flavours. OK drink, not fine. C
2008 Merlot Shiraz (Morrisons)
Smells like the bottom of Green Flash pumps, a rather rubbery aroma, with some baked berry and vanilla in there too. Full in flavour, but not the most successful of cocktails, and is there some residual sweetness? Reduced too. C-
2008 Shiraz Cabernet (Somerfield, Tesco)
Again that rubbery reduction, with the mint of Cabernet coming through. Rather clunky vanilla too, and a vague chocolatey edge to the ripe berry fruit. What happened to the relaxed, just-underripe and refreshing style that cheap Chilean reds used to have? C(-)
2008 Cabernet Petit Verdot (Co-op)
Pick of the reds, this has the slightly charred/ashy undertones of Petit Verdot set against the berry of the Cabernet, but there's still some of that rather crude vanilla taking pleasure away from the simple fruit flavours, and leaving this rather cloying finish. C+
(I'm going to try and catch up with these vintages of Chilano later in the year. As you'll see from the marks, I wasn't majorly impressed by them, but I'm wondering whether this might have been because they'd only been bottled recently. Certainly the three whites seemed to have something missing on the finish, which is often a sign of bottle shock)