3+1 pinks
Bit remiss of me to forget about this trio of pinks from the Wine Society. However, they arrived in mid-September rather than mid-June, so presumably the Society folk feel that these aren't just wines for warm weather – let's see how they fare…
2008 Viña Leyda Loica Vineyard Pinot Noir Rosado, Leyda, Chile (£8.95)
Gentle and sappy, like red cherry and apple pie in a glass, aged for a short time in oak, but you'd never notice. Would have been a great summer tipple, but has the cojones to take on Christmas dinner. S-
2008 Contesa Vigna Corvino Montepulciano d'Abruzzo Cerasuolo, Italy (£6.95)
A bit on the simple side this, nothing wrong with it, but beyond a slug of pleasant red fruit, there's not a great deal of personality. C+
2008 Serge Laloue Sancerre Pinot Noir Rosé, Loire, France (£12.50)
Fresh and tangy with red berry Pinot fruit and a touch of green apple, light in colour but quite full in flavour, with an almost flinty finish. For fishy fare. B+
Another pinkie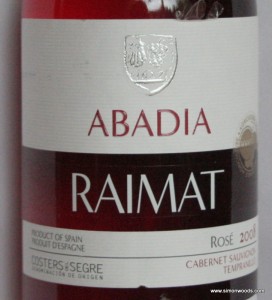 Raimat Abadia Rosé 2008, Costers del Segre, Spain (£6.99 Matthew Clark)
A bit confected, rather like strawberry cordial, too much sweetness and not enough freshness. 0
.
.
.
A fascinatingly different trio of Pinots
Waipara Hills Southern Cross Pinot Noir 2007, Central Otago, New Zealand (£12.99-£16.99 Sainsbury's, Wine Rack)
OK, it's not the most subtle of wines, but it packs in plenty of flavour. This is one of those slightly chubby Pinots with bouncy red fruit, a hint of something earthy like tomato or beetroot and a velvety texture. What it lacks in finesse, it more than makes up for in generosity – wine to make you smile. S-
Viña Ventisquero Herú Pinot Noir 2007, Casablanca, Chile (£19.99 PLB)
Not quite sure what to make of this wine. There's clearly some very good fruit here, but (as I find with many Ventisquero reds), I just wish the winemakers had been a little less heavy handed both in the way they extracted the flavours and their use of oak. It's good – I like the vibrant cherry, raspberry and strawberry flavours, and hint of spice – but I suspect there is a better wine in here somewhere. B+
Sonoma Cutrer Pinot Noir 2006, Sonoma Coast, California (£19.99 Waitrose, Majestic, Ocado.com, milesbetterwines.com, everywine.co.uk, thedrinkshop.com)
From a (Brown Forman-owned) winery best known for its Chardonnay, here's a Pinot that's far better than I expected. No hint of heaviness, no overripeness, no excessive oak or alcohol, just lush, tender cherry and berry fruit with a hint of oak spice, and a supple, alluring finish. Didn't expect this to be my fave of these three but it is. S(-)
.
Italian Interlude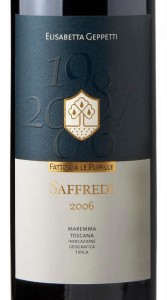 Fattoria Pupille Saffredi 2006, Maremma, Tuscany, Italy
It's rather early to pull the cork now on this blend of Cabernet Sauvignon, Merlot, Syrah and Alicante, but it's been fascinating to watch it evolve over the last 48 hours. What started off as a stubborn oaky monolith then uncoiled to reveal exotic floral, ginger and clove aromas, plush plummy bramble flesh, some charred cherry chocolate and violet hints (almost like Tannat), and a lead-pencil-like minerality. Each time I come back to it, my reservations as to whether its overripe, overoaked and too low in acidity are etched away. Classy wine with a very promising future. G(-)
.
Spanish quintet
Hacienda El Espino '1707' Variedades 2005, Almansa, Spain (£7.99 The Real Wine Company)
You can almost taste the dust of southern Spain in this concoction of Garnacha sexed up with several French varieties. There's a mocha-like edge to the sweet pippy berry fruit, and a slightly baked grapeskin edge to the finish. I'd have left the Cab Sauv out and let the softer fleshier Garnacha take even more of a starring role. B-
The next four are new additions to the Oddbins range, all from branches of the Codorníu empire (good to see that the new regime at Oddbins is now seeking out small artisanal family wineries…)
Legaris Ribera del Duero Crianza 2006, Spain (£13.49 Oddbins)
The heat of this drought year comes through in this rather four-square wine. There's a nice aroma of ginger biscuits, but then the baked black fruit edge – what some Aussies call 'dead grape' – comes through. OK, but will be all the better for a cooler, wetter vintage. B
Legaris Ribera del Duero Reserva 2004, Spain (£17.99 Oddbins)
This is more like it. This isn't a light wine by any means, but the spice and fragrance absent in the 2006 Crianza are here, along with warm (rather than cooked) red and black berry flavours, touches of vanilla, cinnamon and clove, and an intriguing, earthy red-brick edge to the finish. S(-)
(have to add that the Legaris web site contains one of those wonderful examples of something that is probably wonderfully eloquent in Spanish, but is just bollocks in English – "Legaris is silence and seclusion, agreement between the human and the natural which transcends in one point. Current human knowledge, the faithful fruit of the earth, gives Legaris the pride, the desire and the dream of all wines: the essence of a good wine." Even Morrissey would have thought that was pretentious)
Scala Dei Prior 2005, Priorat, Spain (£17.99 Oddbins)
(50% Grenache, 27% Cabernet Sauvignon, 23% Syrah) Prior to the late-1980s renaissance in the Priorat, Scala Dei was one of the few wineries whose wines ever appeared outside the region. The wines today are more modern than in those days, with more freshness and fruit, and less of the soupy/bretty style of the past. Even so, while I like the chocolate-y edges to the berry flavours, and the almost iron-like minerality, I find an overripe, raisinny character (plus some brett) that I just don't like. I know Priorat's a warm place, but I want a little more nervous tension in my wines. B
Scala Dei Cartoixa 2005, Priorat, Spain (£26.99 Oddbins)
(45% Grenache, 15% Cariñena, 20% Syrah, 20% Cabernet Sauvignon) This is much better. There's more new oak, but there's also fresher fruit, and more spice, with flavours of black cherries, blackberries, ginger and clove, all underpinned by a streak of minerality, and the acidity that seemed absent in the Prior, probably from the Cariñena. There's also a herby wildness, but it's a high-cheek-boned wildness – the Prior was Pop Larkin, this is Heathcliff. S(+)
.
Claret to finish with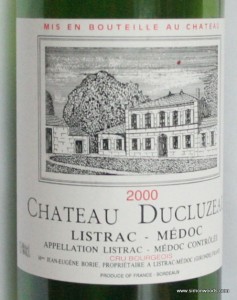 Château Ducluzeau Listrac 2000, Bordeaux, France (£14.95 fromvineyardsdirect.com)
Nicely mature wine from the Borie family, owners of Château Ducru Beaucaillou. Listrac can be a little on the tough side, but this one's a charmer, with a backbone of minerals and tannin, and a gentle, lithe palate of blackcurrants, old but high-class wooden furniture and all-spice. S(-)