a
a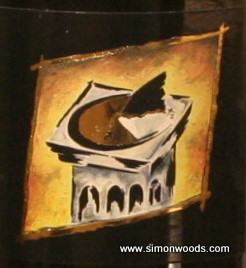 About ten years ago, I went to South Australia as a guest international judge at the McLaren Vale wine show. There are those who criticise the Australian show system, but as anyone who's been involved in it will tell you, a) it's great fun, b) it's hard work, and c) in my limited experience (I've done 4 of them) the judges are to a man/woman interested in bettering the standards of wine. Anyway, McLaren Vale was a hoot, thanks in no small part to having the wine world's scruffiest and unhealthiest marketing man Zar Brooks as a chaperone.
Three events outside the days of judging come to mind. Firstly, my introduction to vertazontal tastings. Yes, vertazontal, as in vertical meets horizontal. In other words about eight wineries (that's the horizontal bit) presented several vintages (the vertical bit) of their wine, in this instance Shiraz. Secondly, there came the realisation that some in the region had begun to take the idea of big is beautiful too far. I'm all for pushing limits to the extreme, but I'm also all for then stepping back from those extremes to discover a happy medium. I found that some of the wines that were then being made in McLaren Vale were just too big. Am I the only one who has never understood why Clarendon Hills receives the acclaim it does? I taste it at every opportunity, just so I can see if I can get what people like Robert Parker see in the wines, and I still haven't had any Road to Damascus type of experience.
The third event was my visit to Drew Noon's winery. You arrive at some wineries through a well-manicured shrubbery, often with lavender bushes in attendance, and are greeted by enough marble to furnish a Greek temple. But ten years ago at Noon – they may have spruced it up since – you drove up a dirt road to a building that estate agents would have described as 'rustic' and 'with potential' – a shack in other words. Ah, but the wines… Drew doesn't try to hide the heat of McLaren Vale in his reds, and it's a rare wine that dips below 15% alcohol. But there's brain to match the brawn, with that earthy, almost ferrous edge of some of the local soils playing as much a part in the wines as the generous fruit flavours. Back in Blighty, I bought a mixed case of his 1998s, about 6 months before Robert Parker showered them with praise and huge scores.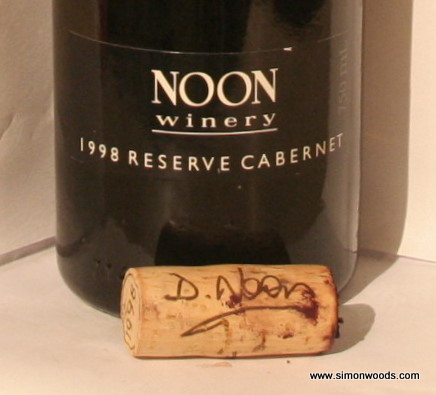 And whereas I disagree with Bob on Clarendon Hills, with Noon, I'm right with him. These are wines that have the power and intensity of Clarendon Hills, but none of the volatility and oxidation. And they're wines for the long haul – just over a year ago, I broached a bottle of the Grenache Shiraz Eclipse (see here) and it was way, way too young. So too is the 1998 Reserve Cabernet we've been on tonight. It started off in rather obvious and chunky fashion, and even began to look a little jaded, but then an hour or so later, the fireworks began. Pencils. Blackcurrants. Cedar. Mint. Warm earth. Iron. Tannic but balanced. Ripe but never descending into bimbo-dom. Six hours after I pulled the cork, it's still opening up and revealing extra layers. However, my glass is nearly empty, and it's late, and I have to give my sister a lift to the airport early tomorrow. But there are three bottles left. Next time, if I'm thinking about having it for dinner, I'll open it at lunchtime – 12 Noon would seem like a good time.