I've spooken, sorry, spoken about Spook the 3-legged cat of Cloudy Bay on these pages before  and I was reminded of her once again this week when I bumped into her former keeper, Kevin Judd. Kevin  has spent much of his life since the mid-1980s helping to propel Cloudy Bay to international stardom, with some time out to capture some of the wine world's best photos – check out his web site for more details.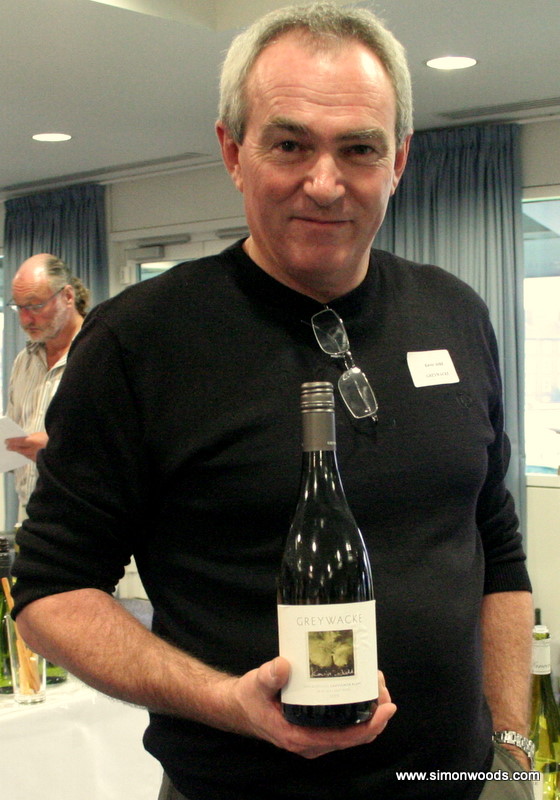 He's now moved on to form his own venture called Greywacke. I knew I'd heard the name before…the phrase 'Greywacke Jones and Butterball Brown' came to mind, and I said as much. 'Slinky Malinki,' said KJ. 'I used to read it to my kids.' Me too. If you're not aware of the works of Lynley Dodd, and have anything approximating an ounce of childhood somewhere in your bones, then this New Zealand author should still be able to bring a smile to your face with her sprightly rhymes and similarly deft illustrations featuring Hairy MacLary (a dog), Slinky Malinki (a cat) and other members of the animal kingdom – I always had a soft spot for Zachary Quack, the duck.
Apart from being one Slinky Malinki's buddies, Greywacke – pronounced Greywacky – is also a variety of sandstone widespread in New Zealand. 2009 was the first vintage for Kevin's eponymous Marlborough winery, and although there are several wines in the pipeline – Pinot Gris, Pinot Noir, Riesling, Late Harvest Gewurz and an oak-aged, naturally fermented Sauvignon – so far the only release is a regular, unoaked Sauvignon Blanc. The 2009 Marlborough Sauvignon's are in most instances a step up on the rather clumsy, often rot-influenced 2008s, but this is still a pretty smart debut. Clean, pure, pithy and with a streak of citrus acidity and mineral intensity, it's New Zealand Sauvignon at its sleek and feline finest. Should be around £13 when it appears in the UK later this year (Liberty Wines are the importers). Spook would have approved.