Didn't quite get this in there before the end of 31 Days of Riesling, ah well…
Leitz Dragonstone Riesling 2015, Rheingau, Germany (£13.99 Ake & Humphris, Asda Online)
Classic sweet-and-sour Riesling, with tense, minerally grapefruit and lime notes set against richer guava and pineapple, a light honeyed sweetness, and a long, rich, almost earthy finish. Think flat Lilt for discerning adults, would be a wow with seared tuna with a touch of chilli. S
+++++++++++++++
One thing I didn't touch on in the video above is a wine's acidity. Below is my tasting sheet from a visit to Gunderloch in the Rheinhessen this June. The estate owns around a third of the Rothenberg (Red Hill) vineyard in the village of Nackenheim, and we tasted five wines from the site, numbered 5 to 10 in the photo above but excluding No. 6.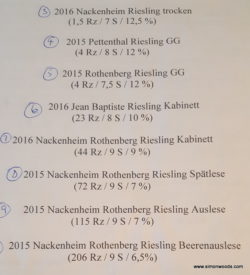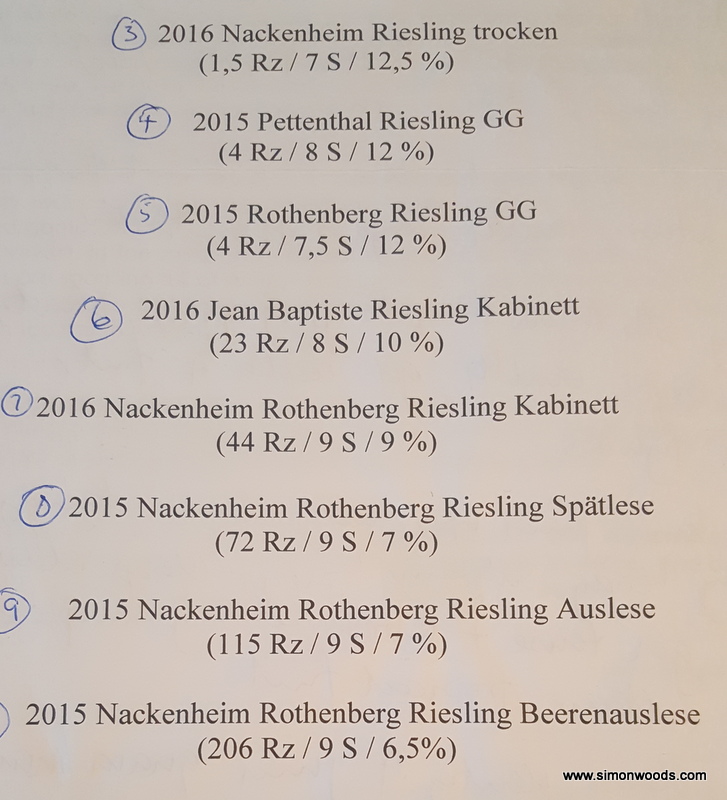 The stats after each wine are RS (Residual Sugar in grammes/litre), TA (Total Acidity in g/l, expressed in terms of sulphuric acid equivalent*) and Alcohol. Wine 5, the (dry) Grosses Gewächs, has the lowest sugar of 4 g/l and the highest alcohol of 12%. If had been made as a sweet wine with 7% alcohol, it would have had ~89 g/l of RS (it takes around 17 g/l of sugar to produce 1% alcohol), putting it between the Spätlese (wine 8) and the Auslese (wine 9) in sweetness terms. However, because of the lower acidity, it would probably have tasted sweeter than the Auslese because of its lower acidity level. Conversely, if the Auslese had been fermented down to near-dryness, it would have had over 13% alcohol but, thanks to its higher acidity, it probably wouldn't have tasted as rounded as the Grosses Gewächs.
* In some parts of the wine world, they measure the Acidity in terms of Tartaric rather than Sulphuric acid – add 50% to the quoted figure to get the Tartaric equivalent.
Got that? If not, just content yourself with Gunderloch being an excellent source of great Riesling at all sweetness levels. The wines are very user-friendly, but my notes from the tasting are still full of words like 'finesse' and 'precision', with extra layers of flesh appearing in the wines as you move up the quality scale. Star of the show was the fabulous Beerenauslese, with its rose petal aromas, spicy apricot, mango and Strawberry Mivvi lolly flesh and zingy limey acidity. Decadent but never OTT.
The Louis Guntrum range sampled over dinner that evening never quite hit the heights of Gunderloch but scored for value and being even more accessible. I mentioned the Grauburgunder and some other wines HERE, as for the Rieslings, my favourites were a plump and peachy 2015 Nierstein Oelberg Trocken and a vibrant 2015 Oppenheimer Herrenberg Auslese. I'll put in a good word for the 2016 Niersteiner Silvaner Trocken too, like a spicy German take on Grüner Veltliner.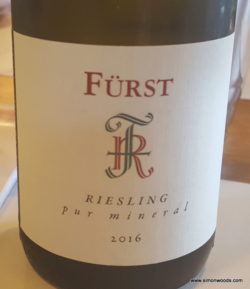 In contrast to both the Gunderloch and Guntrum styles, the Rieslings from Fürst in Franken, all dry, were sleeker and tauter, bracing, spring-like wines that you almost felt you could twang. As an entry level Riesling, the Pur Mineral 2016, is a tense yet tender star that I'd love to try with a platter if fruits de mer (see HERE for my thoughts on Fürst's Pinot Noir).
We began with a Leitz Riesling, so let's finish with some more. The estate is based in the Rheingau village of Rüdesheim, which is twinned with Meursault and (yes) Swanage. I think of Rheingau as the summit of German dry Riesling and the Leitz range doesn't disappoint. Unsurprisingly, the Grosses Gewächs wines are stunning, especially Berg Rottland, but look out too for the excellent wine from Berg Kaisersteinfels, which thanks to its slightly high sugar level can't qualify for official GG level. Look out too for Magic Mountain Riesling, the dry equivalent of Dragonstone. It's a sensibly priced, fleshy but fine-boned wine with a tinge of vanilla that should be poured down the throats of those who still think that German Riesling should only be sweet. Not that there's a problem with the Leitz sweet wines, as my enthusiasm for the Dragonstone above reveals. In fact I'm sipping the remains of the bottle as I finish this post off. I need more German Riesling in my cellar, and so do you…