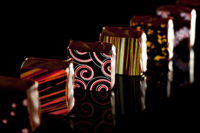 In case you didn't know, National Chocolate Week (12th – 18th October) will soon be upon us. If you can't wait until then, Gaucho Restaurants are holding a masterclass on September 8th in which Kirsty Joly of chocolatiers Perfectly Tempered will present a bevy of Argentina-themed chocolates aided by Jessica Closs, Gaucho's Head Sommelier, who has selected some of the 63 Malbecs on the list that will (hopefully) demonstrate that the grape has more strings to its bow than being purely a libation of the carnivorous.
Guests will get a chance to try pairings such as…
Terruño Malbec 2008/9 with [1] Jasmine Tea & [2] Blueberry truffle
Casa Marguery Malbec 2006/7 with [1] Masala Chai & [2] Dark Chocolate truffle
Michel Torino 'Don David' Malbec 2007/8 with [1] Lemon and Mint & [2] Passion fruit
Schroeder Malbec  2006/7 with [1] Strawberry and Balsamic &  [2] Orange and Cardamom
The Masterclass begins at 7pm and costs £37.50 pp. For further info, contact Matt.Ford@gauchorestaurants.com.