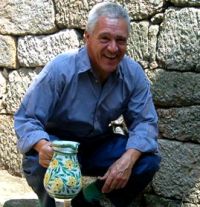 Just received the following e-mail from Nuno Araujo, one of the most enterprising and inspired winemakers in the Vinho Verde region, and the most subversive of the six producers that make up Portugal's IWA (Independent Wingrowers Association). I haven't been a universal fan of Nuno's wines – some were just too 'international' and oaky – but the best were excellent, and I featured one of them in my Portuguese Top 50 back in 2008. Given Nuno's passionate demeanour – he's almost more Spanish than Portuguese – I hope this is just a temporary blip. It would be a tragedy for the region to lose one of its true movers and shakers Anyway, the e-mail…
———————–
Dear friend,
Back in 1989 -twenty years ago-, at Quinta de Covela there were no vines, no appellation (or worse: vinho Verde…), no brand, nothing but a wild, amazing potential and a very promising estate to be.
End of 2009, we could find a well-established brand, an highly respected wine-style and a coherent wine family; COVELA wines are present in a large number of excellent wine-lists of top restaurants, in many countries.
For 20 years, we pursued the goal of uncompromising excellence in viticulture and vinification, creating and developing unique wines, with a specific personality. Trusting our believes and anticipating a general concern, we moved into organic farming and were pioneers in implementing Biodynamics.
Twenty enthusiastic years, creating and developing this wonderful and unique project, against all odds ("viticulture commissions", low notoriety of the region and its wines, "jurassic" opinion-makers, etc.); year after year enjoying the growing quality and recognition of each vintage, putting COVELA on the world-wine map!
We were glad to say that both the market and the specialized press praised our vision and the wines produced.
Last year we were "caught" by a world-wide crisis (we could face it) and by a meanwhile nationalized bank (over 4,2 billion euros bail-out so far…), this one unwilling to backing us up (maybe there are more obscure reasons behind this attitude, and time will bring them to light), and resulting in a death sentence to the project. Unnecessary, unjustified and stupid decision, I think; but definite and real.
I am sending you this mail to let you know about this unfortunate situation, and to thank for your most valuable support and interest over the years.
With my best regards
Nuno Araujo
———————————————-
(picture nicked from this part of Tom Cannavan's excellent wine-pages – Tom, I owe you a beer)