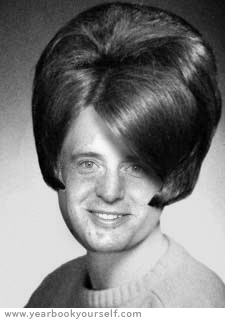 **** UPDATE **** 'Fraid I've had to abandon this for 2009 as you'll see here.
As the Beach Boys sang in their seminal song Little Saint Nick, Christmas comes this time each year. In the run up to the Big Day, I'm paying homage to some of luminaries of the wine world with help from the wonderful Yearbook Yourself (that's me above as a child of the early 60s). All you have to do each day is guess who is hiding 'neath the dubious haircuts. Then come back at 18:00 GMT to see whether your guess proved correct, and to admire the next Yearbooked Wine Personality in all his or her glory.
Day 2 – does this handsome fellow seem familiar?
Day 1 – who is this dapper gent in the bow tie?
To find out who is behind the dodgy barnets, click here.