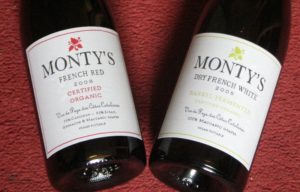 Wine writer-turned-winemaker Monty Waldin credits me with him becoming a wine writer. He used to work in Roberson in London, and apparently when I was in there one day in the early 1990s, I mentioned that Wine Magazine (now RIP) was lookings for a tastings co-ordinator. He applied for the job, but being the bolshy bugger that he is (and you are Monty, you wouldn't deny it), failed to get the post. But not before penning a piece that made the powers that be think that here was someone with strong opinions who had a way with words.
In recent times, it's been his way with wines that has propelled Monty into the limelight, thanks to last year's Channel 4 programmes Château Monty, which told the story (or at least the most tele-visual aspects of it) of him taking over a vineyard in Roussillon and making a wine using biodynamic principles, on which he is an authority – he overwrote his 2004 Mitchell Beazley book Biodynamic Wines by 30,000 words )if you want a condensed version of his views on biodynamics, check out this interview he recently did with Jamie Goode).
These two wines, both Vin de Pays des Côtes Catalanes, come from his second vintage in Roussillon. The Dry French White is 100% barrel fermented Maccabeu, normally a rather dreary grape, as several anodyne whites from Rioja (where it's called Viura) demonstrate. But thanks to the TLC and the Roussillon terroir, this has peachy cooked apple flesh with a salty mineral tang – think Pouilly Fuissé with a Manzanilla chaser. The French Red is Carignan + 25% Syrah. Much is made of Carignan** in Roussillon, and it's true that here the grape performs as well as anywhere, giving wines with lovely red and black fruit freshness and peppery fragrance. But while it can be coaxed into decent solo performances, for me it's always better with something to add flesh to its bones. Here, the Syrah just adds a little more of a savoury edge to the Carignan angularity, and the result is a refreshing red which at just 12.5% alcohol is an antidote to the rather bloated wines that the region often produces. If the white was Pouilly Fuissé, then this, thanks to the carbonic maceration and raspberry scent, is like decent Beaujolais with a twist of pepper – and as with Bojo, don't be afraid to give it half an hour in the fridge. Both are £8.99 from Adnams, although for some reason only the red is currently on the web site.
** or Old Vine Carignan to give it its full name – is there any young vine Carignan?